The years go by, but the splendor of Saguenay–Lac-Saint-Jean will never cease to amaze us. It's time to become aware of the beauty and diversity of the region: a lake that thinks it's the sea, a fjord dating back 950 million years, roads criss-crossing towns and villages, each more picturesque than others. Without a doubt, Saguenay–Lac-Saint-Jean is so GIANT.
Philippe Laprise's adventures in Saguenay–Lac-Saint-Jean continue for another year, but this time, discover a simple and funny, inspiring and moving, more mature, amazed and passionate Philippe in front of the jewels of his native region.
Follow Phil's adventures throughout the year, get inspired and create your own dream itinerary!
Discover the giant experiences of SagLac with Phil
To inspire you, here are itineraries that will appeal to all types of vacationers! From the lake to the fjord, discover plenty of treasures for a fabulous vacation! Also have fun finding the life-size Phil posters that are hiding in the various regional businesses and take fun photos with our spokesperson.
Feel free to share your adventures using the hashtags #followphil and #saglac.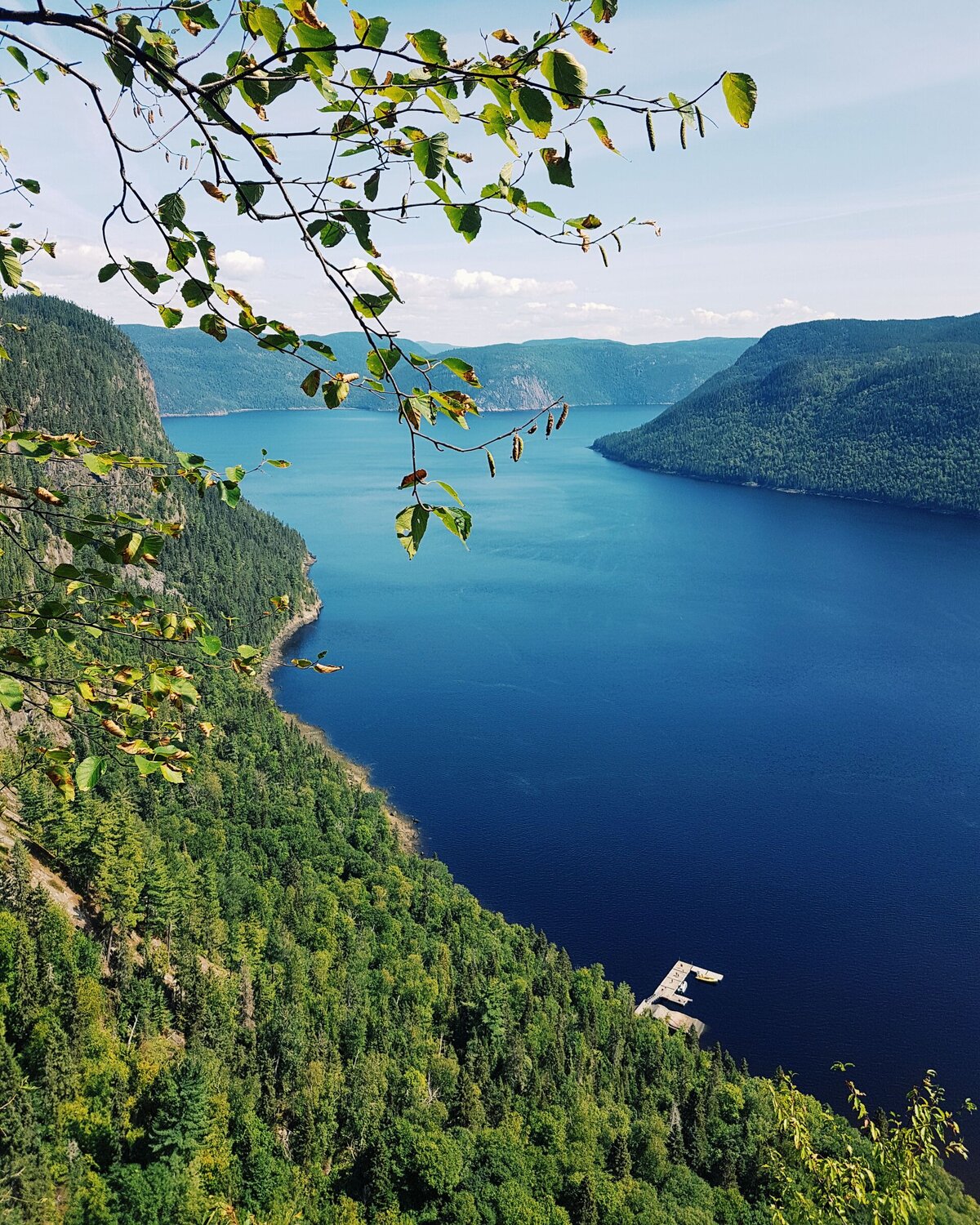 This 4 to 5 day itinerary is ideal for those who wish to discover Lac-Saint-Jean. Take to the road and let yourself be charmed by the attractions surrounding Lac Saint-Jean.
The perfect itinerary for those who wish to discover the Saguenay-Lac-Saint-Jean region from top to bottom! We start in Petit-Saguenay and end in Chambord.
You wish to discover the Saguenay and the famous Fjord route? This itinerary is for you: The Saguenay has so much to offer and is ready to dazzle you!
Want to follow Philippe Laprise to Saguenay and the surrounding area? Cultural and outdoor activities to see, taste and discover the region are on the program in this itinerary perfect for a weekend.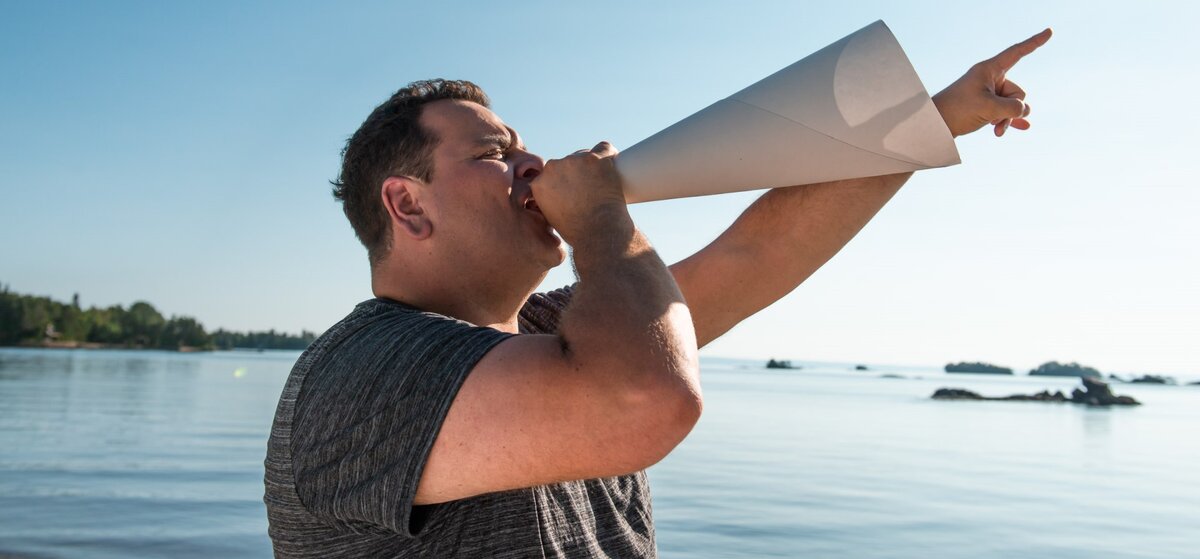 A native of the region, Phil Laprise knows every corner of Saguenay–Lac-Saint-Jean like the back of his hand: tourist attractions, good addresses, small local producers, cultural events, nothing can resist him! With all his years of experience in the most beautiful region of Quebec, Philippe Laprise accumulates favorites and it is even said that he literally has SagLac tattooed on his heart... His contagious good humor and his passion for open spaces definitely make him the ideal ambassador to promote the region in his own way.
We asked him questions!
Something I haven't tried yet is sleeping in the hanging domes. But at the same time, I'm a little dizzy.
I haven't dared to try it yet, to be continued...
Zodiac on the fjord is always great! Seeing the cliffs up to 412 meters high always blows my mind, not to mention a sunset over the fjord, I recommend and it's hard to beat!
At the Festival du Bleuet, a few years ago, I opened for Vilain Pingouin and for me, it was THE band I had the most fun with when I was young, so opening for them at the festival was unbelievable!
Of course, there are plenty of other festivals, but this one particularly marked me.
Paradise for those who love snow!
Honestly, it's the Fjord and Lac-Saint-Jean. These are two truly magical and impressive stretches of water!
I have several, but obviously there was my birth in May 76 which was extraordinary. A little more seriously, every time I go to the fjord, by boat, sailboat or zodiac. It's moments that I spend with my family so it's always magical!
Lately, it's mountain biking and Fatbiking that I discovered and there are plenty of extraordinary places to do it at SagLac!
Fromagerie Artisan Bio Bouchard located in Saint-Félicien is definitely one of my favorites. I also love Microbrasserie Pie Braque, which is a microbrewery in Jonquière. Of course, I don't forget all the blueberry products which are always delicious!
Accessibility! You can come by car, snowshoe, ski, snowmobile, all ways are good! Also, the views are always super nice!
Definitely, you have to go see La Chocolaterie des Pères Trappistes in Dolbeau-Mistassini and Le Musée du Fjord in La Baie. The Native Museum of Mashteuiatsh and the Louis Émond Museum are also very impressive, you will love it!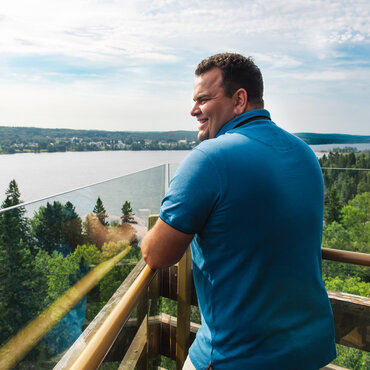 Phil's Memories
Immerse yourself in the first adventures of Philippe Laprise in Saguenay–Lac-Saint-Jean. You will find a somewhat imposing traveler who has improved a lot since time!