Aérodrome Lac-Saint-Jean







Description
The best way to discover the magnificent landscapes of Lac-Saint-Jean, such as the vast blueberry fields, the majestic lake, and the forests as far as the eye can see, is by flying over the territory. It is possible to live this unique experience aboard our Cessna 172 or Cessna 310 at the Lac-Saint-Jean Aerodrome.
The first way to fly over the Borealie is to take a plane ride over the main points of interest. From the air, you will discover the Lac-Saint-Jean region as you never imagined it. It's guaranteed! For thrill seekers, make your dream come true by becoming a Pilot for a Day! Accompanied by an experienced instructor, take control of the aircraft and fly according to your inspiration. A unique and memorable experience for everyone.
Whether you want to take a plane ride or become a Pilot for a Day, don't forget to reserve your seat at least 24 hours in advance.
Note that the Lac-Saint-Jean Aerodrome also offers a wide range of licenses and qualifications at its flight school.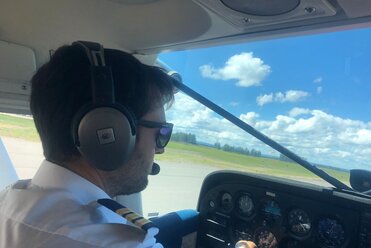 Who is this activity for?
Schedule
The displayed schedule may be subject to change. For any questions, please refer to the company's website or contact the company directly.
Period of operation