To make sure you don't miss anything, scroll down this list of absolute essentials. In discovery mode, an outdoor stop here, a breathtaking view there, SaguenayLac‑Saint-Jean serves up giant attractions you can take in from the edge of a cliff or gliding over the water. With our 10 must-see experiences, you'll have the best time in our region.
Village historique de Val-Jalbert
Village historique de Val-Jalbert
In the 1920s, life in Val-Jalbert kept pace with its pulp and paper mill. Long silent once the mill closed, the village is now more vibrant than ever. With more than 40 original buildings, Val-Jalbert is a designated national historic site and a Canadian Signature Experience. Come admire the impressive Ouiatchouan Falls from atop a glass viewing platform. There's a cable car, an immersive show, a trolley bus tour— more than enough to fill up an entire day. And if you haven't had your fill by the end of the day, you can even stay the night!
The Véloroute des Bleuets bike trail is the top cycling destination in North America. That's why cyclo‑tourism fans love coming here with family or friends. The 256-kilometre circuit offers incredible views of Lake Saint-Jean. The local population gives you a warm welcome, with 75 ambassadors, 4 maisons du vélo, and the "vélomobile" Desjardins. On top of that, there is a shuttle bus for your bags and many other services are available to help cyclists plan an unforgettable experience. What more could you ask for than to ride in total peace of mind?
Véloroute des Bleuets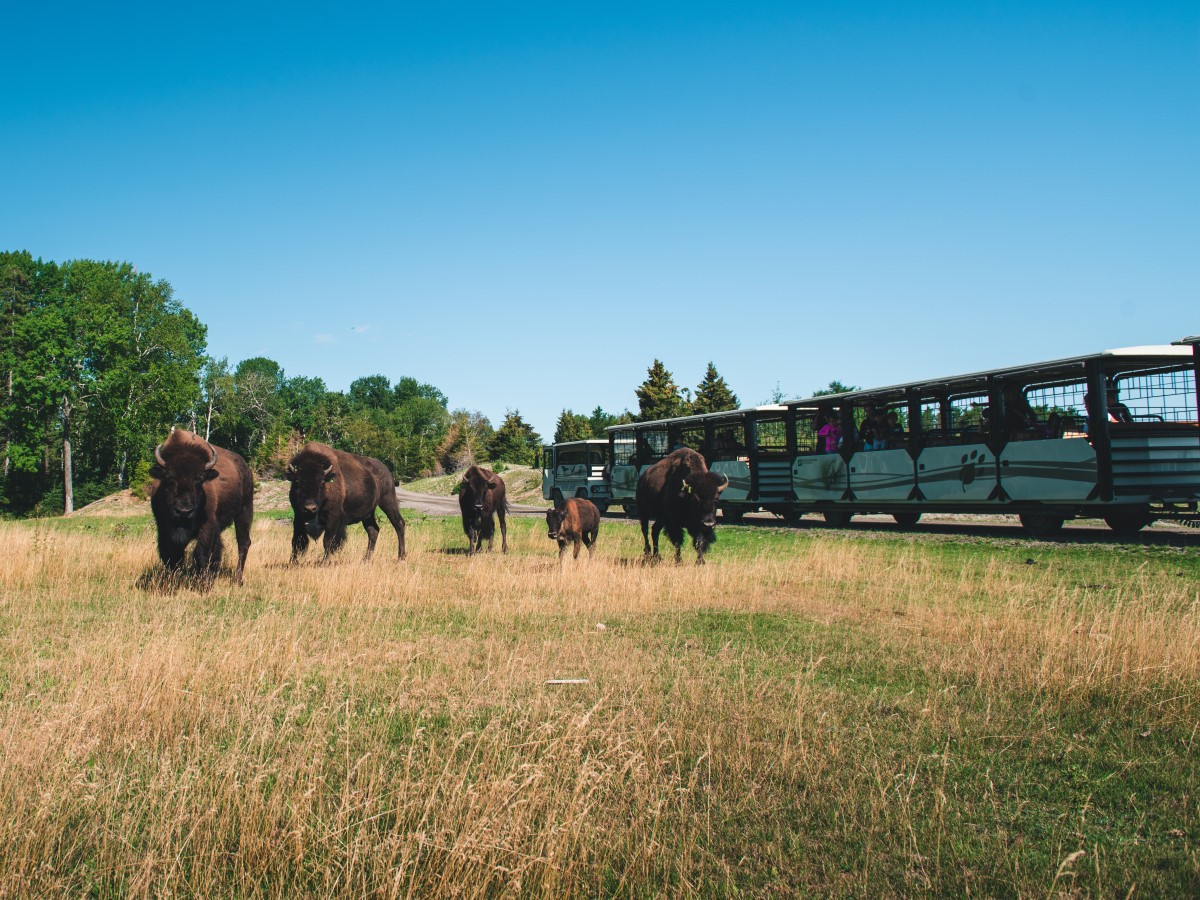 Zoo sauvage de Saint‑Félicien
Zoo sauvage de Saint‑Félicien
In Saint-Félicien, the Zoo sauvage provides vast and comfortable natural habitats for animals from boreal and cold regions around the world. It's no surprise that it's one of the top 10 most beautiful zoos in the world! You'll find over 86 species there, including exotic animals and those endemic to the region. Red pandas are definitely a favourite among visitors. And your visit won't be complete without seeing the animals at feeding time, attending an animal encounter, trying a water-based activity, or climbing aboard for the popular train ride through Nature Trail Park.
Parc national de la Pointe-Taillon
Did you know the park expanded its territory? It's now possible to access new areas that let you fully experience Lake Saint-Jean. In addition to the 15 km of beaches in the Pointe-Taillon area and the bike path that connects to the Véloroute des Bleuets, you'll love the of Saint-Henri-de Taillon's Amicaux area, with their Écho cabins open year-round and its ready-to-camp spots that are available all summer. Not to mention the new RV equipped campsite at the Camp-de-Touage-les-Îles sector in Saint-Gédéon, complete with boat rentals for those in the mood for a fun excursion.
Parc national de la Pointe-Taillon
Parc de la caverne Trou de la Fée
Parc de la caverne Trou de la Fée
Surrounded by an impressive and imposing rock walls? Let the show begin! Carved directly into the granite stands a 7-metre-high amphitheater—the only one of its kind in Québec—where you can watch a captivating immersive show projected onto the rocks in 360 degrees. In 21 minutes, learn about the land's development and occupation. Just wait until you see the new reception building and its stunning view of the most beautiful landscapes in Québec that contain hiking trails and a legendary cave. Wow!
Feel like discovering a natural sanctuary, version 2.0? The multimedia and multisensory experience the Ermitage Saint-Antoine offers is worth the detour alone. As a bonus, picture an extraordinary site with lakes and mountains on each side where the beautiful, the good, and the true are at your fingertips! Bring the family to enjoy hiking trails, bike rentals and an observation tower. Everything you need for a journey inwards or one that helps you connect with others. And the best part is you can stay overnight!
Ermitage Saint‑Antoine
La Fabuleuse Histoire d'un Royaume
La Fabuleuse Histoire d'un Royaume
On the eve of its 35th anniversay, this fabulous show is shaking things up a bit! If you're looking for a refreshingly unique experience—courtesy of the new artistic director—let us take you through the region's 500 years of history in grand style. Every performance, more than 150 volunteer actors act out legendary battles and fire cannons to tell the story of the flood, fires, family Christmases, and more that have made the region what it is today. 30,000 spectators per year can't be wrong—this is one show you won't want to miss!
Parc national des Monts-Valin
Between peaks and valleys, 25 km of hiking trails— including Tête-de-Chien peak, which is getting a makeover—wind their way through the hills. Among them is the majestic Dubuc peak, which at 984 metres is the highest accessible mountain in the region! Rustic camping, fishing, canoeing, and stand-up paddle (SUP) are also on the menu in the summer. The park is just as impressive in the winter. With its spooky Vallée des Fantômes, it's the perfect playground for cross-country skiing, fatbiking, and snowshoeing. After an adventurous summer or winter day in the mountains, you'll be ready to hit the sack in a cabin or cottage!
Parc national des Monts-Valin
Parc national du Fjord-du-Saguenay
Parc national du Fjord-du-Saguenay
On each side of the Fjord, this national park offers young and old a thousand-and-one opportunities for adventure. No matter which side of the Fjord you're on, the hikes between villages deliver breathtaking panoramic views. Whether you're keen to spot belugas, admire the Fjord's landscapes in a zodiac, or discover the via ferrata above Baie-Éternité, thrills are guaranteed. For the night, settle in under a tent in the wilderness or a ready‑to-camp site.
Navettes maritimes du Fjord
Feel like experiencing the Fjord like you've never seen it before? The Navettes maritimes du Fjord lets you cross from one shore to the other in no time flat. You can even take your bikes on board. Its many itinerary options will allow you to admire the Notre-Dame-duSaguenay statue, the highest peaks of the Fjord, and the most beautiful coastal villages. Climb aboard for a short trek or a more contemplative cruise—the choice is yours! Don't forget your binoculars, the landscapes are breathtaking.
Navettes maritimes du Fjord