Description
Cultivation of vines (hybrid grape varieties resistant to cold climates) and production of artisanal wine. Sale of rosé wine, white wine, late harvest (ice wine style).
Production of alcohol made from grape residues.
Permit for distillation and production of wine, alcohol and spirits.
Come and taste our products on site with our magnificent terrace.
Découvrez notre nouveau gin Belle-Rivière
Dégustez notre nouveau gin produit à partir du marc de raisin. Ses aromates de la deuxième distillation sont récoltés autour du vignoble.
The dominant grape varieties are Vandal-Cliche and Adalmiina for white wines. The rosé is made with Radisson and Ste-Croix. We have a small quantity of other grape varieties to experiment with in cultivation and vinification. Our late harvest wine is made with the Vandal-Cliche.
Tasting on site.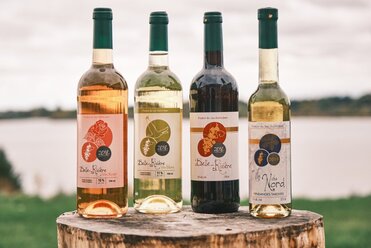 Who is this activity for?
Schedule
Available out of season on request
Period of operation