Gîte au Mitan





Description
Bed And Breakfasts
Charming early 20th-century English-style house in the historic area of Arvida.

Comfortable bedrooms with nice bedding and private bathrooms. In winter, you'll enjoy a great night's sleep snuggled beneath light feather quilts.

Includes a hearty breakfast featuring regional delights. Garage for motorcycles and bicycles. Refrigerator and microwave available.

Looking forward to welcoming you!
2-bedroom cottages with air conditioning and free wifi.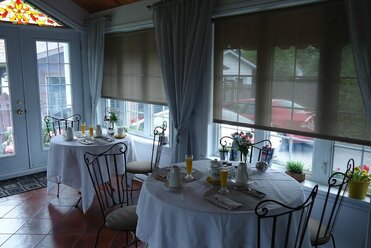 Prices
$110 for one person with breakfast and with taxes.
$130 for two people with breakfast and with taxes.
Number of units :
2
Sun rating :
Rating - Pending
Establishment number :
120013
Who is this activity for?
Schedule
The displayed schedule may be subject to change. For any questions, please refer to the company's website or contact the company directly.