Motel Chute des Pères




Description
Along the Mistassibi River, Motel Chute des Pères owes its name to the Trappist Fathers, who were among the first to arrive in Mistassini. Be rocked to the sound of the waterfalls of the Mistassibi River, while enjoying the cozy comfort of its rooms and taste the flavors of the land of Jeanne. This is the exceptional experience you will live at the Chute des Pères!
We have made renovations to several of our rooms. In addition to superior comfort, they include: heated bathroom floors, modern duvets, new furniture, new floors, flat screen televisions, quiet heating and air conditioning systems.
Two types of rooms have been added to our family: Junior rooms with a queen bed, and rooms with a king bed and a shower.
All rooms offer the same style and comfort, our hallmark of excellence.
Number of units :
70
Star rating :
Rating - Pending
Establishment number :
039874
Le Méandre
The Meander of the Motel Chute des Pères
Enjoying a spectacular view of the Mistassibi River from its terrace, this restaurant promotes Quebec cuisine with regional accents by offering local products. On the menu: regional dishes, grilled meats and seafood. Sunday brunches, children's menus and table d'hôte.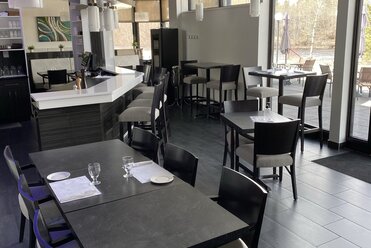 Services
Good to know
Children's menu
Traditional dishes from Saguenay-Lac-Saint-Jean
Who is this activity for?
Schedule
The displayed schedule may be subject to change. For any questions, please refer to the company's website or contact the company directly.
Period of operation