L'Éternel spa
















Description
A Scandinavian spa in the mountains.
Lovers of nature and relaxation will be delighted by the Eternal Spa located in the heart of Monts-Valin. Thermal experience, massage therapy and face and body treatments in an enchanting setting. The hot and cold pools of our Nordic spa are located by a natural river in a relaxing setting.

Our outdoor facilities run alongside a natural river and include several hot water pools, including two large multi-massage pools, a cold pool with waterfall, two dry saunas, two yurts with fireplaces,
various indoor rest areas and exterior as well as a Nordic-inspired bistro.
Check out the new domes!
Designed to be comfortable 12 months a year!
• Majestic view of Monts Valin
• Incredibly cozy bed
• Enveloping warmth due to the heated floor & wood fireplace
• Fully equipped kitchen and bathroom
• And more...
The thermal experience, alternating between hot baths, cold baths and rest sessions, provides deep relaxation, in addition to promoting better blood circulation and allowing the body to eliminate toxins. In harmony with our environment, we constantly monitor the quality of our water and make the hygiene and cleanliness of our facilities our priority.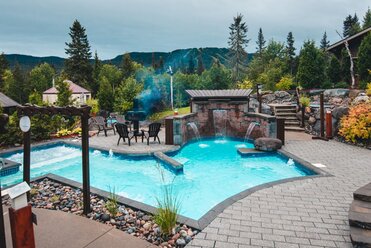 Seeking to be a hybrid offer between glamping and hotels, geodesic domes allow you to stay in luxurious spheres all year round! Able to accommodate 2 to 4 people, the domes are equipped with all services: electricity, drinking water and sewage system.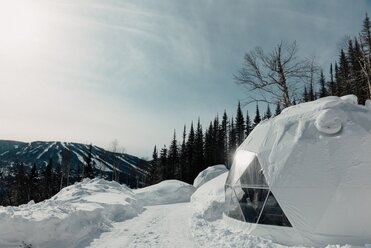 Number of units :
3
Star rating :
Rating - Pending
Establishment number :
627814
Schedule
The displayed schedule may be subject to change. For any questions, please refer to the company's website or contact the company directly.
Period of operation