Vacances Essipit




Description
Live an exhilarating whale watching adventure aboard our Zodiac-type boats (5 of 12 passengers, and 1 of 36 passengers).
You will participate in a privileged and personalized experience at sea with our naturalist pilots who are passionate about the marine environment! From June to October, at the Quai des Bergeronnes, 24 km east of Tadoussac.
Current contact information
Duration: 2 hours.
Every day, by reservation.
Several departures per day.
It's a rendezvous with the largest mammals on the planet!
Schedule
The displayed schedule may be subject to change. For any questions, please refer to the company's website or contact the company directly.
Period of operation
Whale cruises with 12 or 36 passengers. Sail to the water in the Saguenay-St. Lawrence Marine Park for whale watching! Unique and captivating! Experienced naturalist pilots and passionate about whales and the marine environment!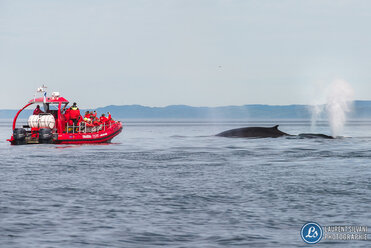 Prices
à partir de 49$ + taxes/adulte et 36$ + taxes/enf.
Who is this activity for?
Schedule
From June to september
Period of operation
Observe the black bear in its natural environment in complete safety in a fenced shelter with an experienced guide. Curious and cunning, the black bear is fascinating to watch! Les Entreprises Essipit offers you the unique opportunity to safely observe the black bear in the middle of the forest. Our experienced guide welcomes you in a safe shelter to allow you to see the black bear in action in its natural habitat. The guide shares with you amazing facts about the life of this animal as well as ancient Innu beliefs. Departures daily and by reservation only 8 km from Tadoussac, at the Pourvoirie des Lacs in Jimmy. On site, we also offer whale watching cruises aboard our Zodiac-type boats with departure from Les Bergeronnes. Discover them in complete safety!