Centre touristique Vauvert-sur-le-Lac-Saint-Jean





Description
Discover the pastoral charm of Vauvert-sur-le-lac-Saint-Jean with its miles of beaches, water sports, a four-star campground, rustic cabins, and a service centre with a restobar, patio, and live entertainment. In winter, the site turns into a snowmobile station (no. 367) where you can also go snowshoeing or cross-country skiing.
Camping, located on the shores of Lac Saint-Jean and surrounded by the boreal forest, will charm you. It offers campers a culture-nature experience, with free access to the beach. Your stay will be enhanced by its eco-responsible approach and by the natural aspect of the land.
Rental of log cabins with a view of the lake.
Largest unit capacity: 6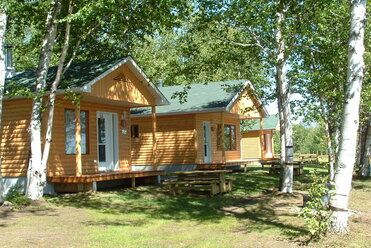 Number of units :
13
Star rating :
Establishment number :
221410
Who is this activity for?
This magnificent fine sand beach provides access for several kilometers to the majestic Lac Saint-Jean. It is a central element of the Vauvert-sur-le-lac-Saint-Jean resort. Free access. Lifeguard present on sunny days.
Long beach of 7 kilometers. Free access. Open to all. Accessible bathroom and changing rooms. Supervised beach.
Snowmobile relay accessible by trail 367. Regional and snack-style menu. Open Thursday to Sunday. Rental of chalets for 4 to 12 people.