Tours aventure Fjord et Monde
Description
Fjord and World Cruise
Treat yourself to the most popular activity in the Saguenay.
To get to know the fjord from top to bottom, choose the Fjord and World cruise. On the one hand, you will discover the most beautiful viewpoints and villages via a guided tour and on the other hand, you will sail aboard the FjordII for a cruise between Anse-Saint-Jean and the borough of La Baie (Les Navettes maritimes du Fjord).
Electric bicycle rental
Suggested 5 tours from the rental office.
Electric assisted bicycle is a way to discover our beautiful Saguenay region in a different way. Take the time to take the time, with family or friends, without too much effort, while respecting the environment. Adopt it, escape on the paths while strolling, discover the local heritage and stories, visit our parks and chat with the Saguenéens... Several circuits for all tastes in order to maximize your rental time are offered to you. Go on an adventure.
Reservation preferable.
A guided visit by motorcoach along the fjord's south shore on the way and a 2.5 hr cruise in a bateau-mouche from L'Anse-Saint-Jean to La Baie on the way back Strong points.
Boat-road loop therefore landscape diversity;
On the way - visits of villages, national park, animations, history, tasting local products, fauna and flora;
Return - cruise, discovery of the Fjord in its most majestic part: Caps Trinity and Eternity, statue Notre-Dame-du-Saguenay and perhaps seals, belugas or falls.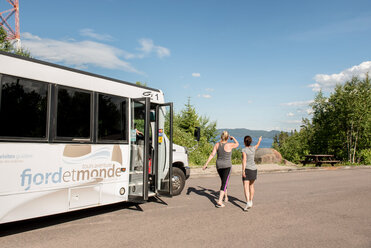 Who is this activity for?
All
Family activity
Family activity 5+
Family activity 8+
Family activity 12+
Adults
Schedule
2 departures per day.
Period of operation
Suggested 5 tours from the rental office.
The choice is yours! To facilitate the adventure and maximize your rental time, we have planned 5 circuits of 2 to 4 hours in the La Baie sector. Roll along the Rivière à Mars towards the canyon (Centre de PleinAir le Bec-Scie), go on an adventure around the Baie des Ha! Ha! and its magnificent viewpoints, visit the Surroundings and its attractions with the help of an audio-guide or, for active people, combine a hike with your bike ride. Also, don't forget between two pedal strokes to stroll at your own pace and take the opportunity to spoil yourself at the merchants in the area.