A Visit to Monts-Valin and Downtown Chicoutimi

Alex Diaz on the Monts-Valin
Tourism Saguenay-Lac-Saint-Jean and Alexandra Diaz said yes to the beginning of a great love story. The partnership will provide the Saguenay-Lac-Saint-Jean region the opportunity to showcase the best it has to offer through the eyes and words of this well known and much-loved Quebecois TV personality.
Alexandra Diaz will visit Saguenay-Lac-Saint-Jean during each season over the next two years. She will share her experiences with the hashtag ##AlexauSagLac on her Instagram and on her Facebook account.
She'll share her adventures, her favourite activities, the stories about the great people she'll meet, but most of all, she'll share her discovery of a region that, though she lives within an easy drive, she had yet to explore!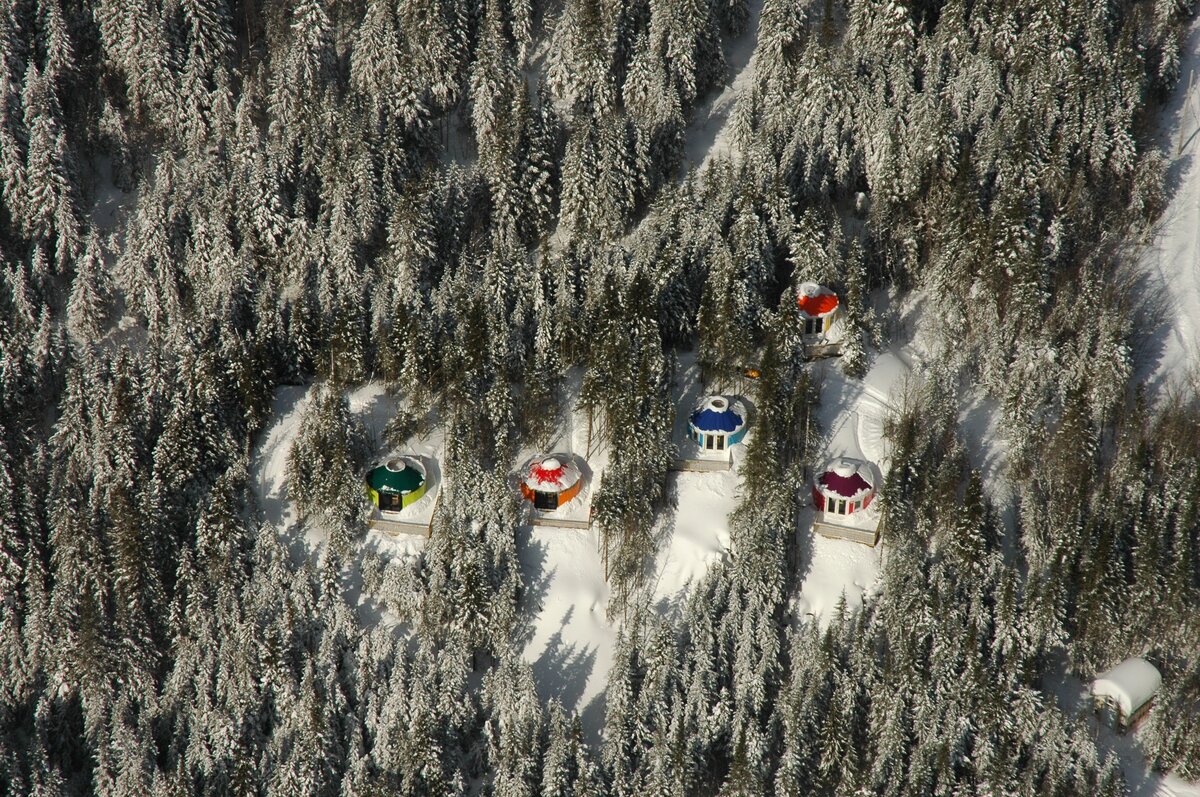 Alexandra started her trip from Montreal. If you live elsewhere, keep in mind that the road-trip is a great part of your adventure.
Places to Stop Along the Way :
Pascal Le Boulanger (To taste great pastries) 4 Avenue Tewkesbury, Stoneham-et-Tewkesbury, QC G3C 2K6
L'Étape (about 1 hour from Quebec on the N-175) for a hot meal or to stock up on snack food
Chocolaterie au Cœur Fondant (for great coffee or fine chocolate)
On this first day, your destination will be your unique accommodation.
For two nights in a row, settle in to your fully equipped yurt at Imago Village. These beautifully designed round yurts all have great views on the slopes of the Valinouët Ski Centre. Each yurt comes with a terrace, a dome-style skylight to observe the stars and can accommodate up to 4 people.
Before you tuck in for your first night, don't miss the opportunity to enjoy a delicious hot meal or nightcap at the on-site yurt restaurant and bar.
DAY 2 | La Vallée des Fantômes (The Valley of Phantoms)

The Valley of Phantoms
Start your day with a healthy breakfast in your yurt before your big day at the Parc national des Monts-Valin. (Make sure to ask to include your breakfast at Imago when you're booking your night.)
Prepare Your Materials for Your Hike
For this hike, it is suggested you bring: a daypack, a water bottle, a lunch, snowshoes (available for rental at the park) and don't forget to dress in layers. The hike is only 6 km, but the several layers can help keep you comfortable as you make the climb to the summit.
Tips and tricks from Alexandra Diaz:
Do not hesitate to bring hotshots for your hands and feet!
Upon arrival at the park Discovery Centre, check-in and prepare for your shuttle. (Reservations should be made well in advance to ensure your spot on the shuttle)
You can rent snowshoes and poles and buy any last minute necessities (gloves, hats, hotshots etc.) at the park boutique as you wait for your shuttle. The shuttle for the Valley of Phantoms leaves at 10:30 a.m. from the Discovery Centre, don't be late!
Enjoy your unforgettable snowshoeing excursion! The Valley of Phantoms is best known for the beauty of its landscapes and the phenomenal quantity of snow it receives over the winter months. The huge boreal snow-covered trees take on an eerie ghost-like appearance. A park guide will join you along the trail and, at the summit, offers an 'off-piste' mini-excursion for those that want to brave the undisturbed snow amongst the phantoms and snow mummies! The excursion to the Valley of Phantoms lasts all day and you'll arrive back at the Discovery Centre reception by shuttle around 4pm.
Your Second Night at Imago Village
Once back to your cozy yurt, take some time to relax before dinner. Then, indulge yourself after your full day of snowshoeing and head to the restaurant yurt just a few steps away from your comfy retreat. On the menu: Mac'n cheese, gourmet poutine (French fries with cheese curds and gravy) and a great selection of other decadent choices.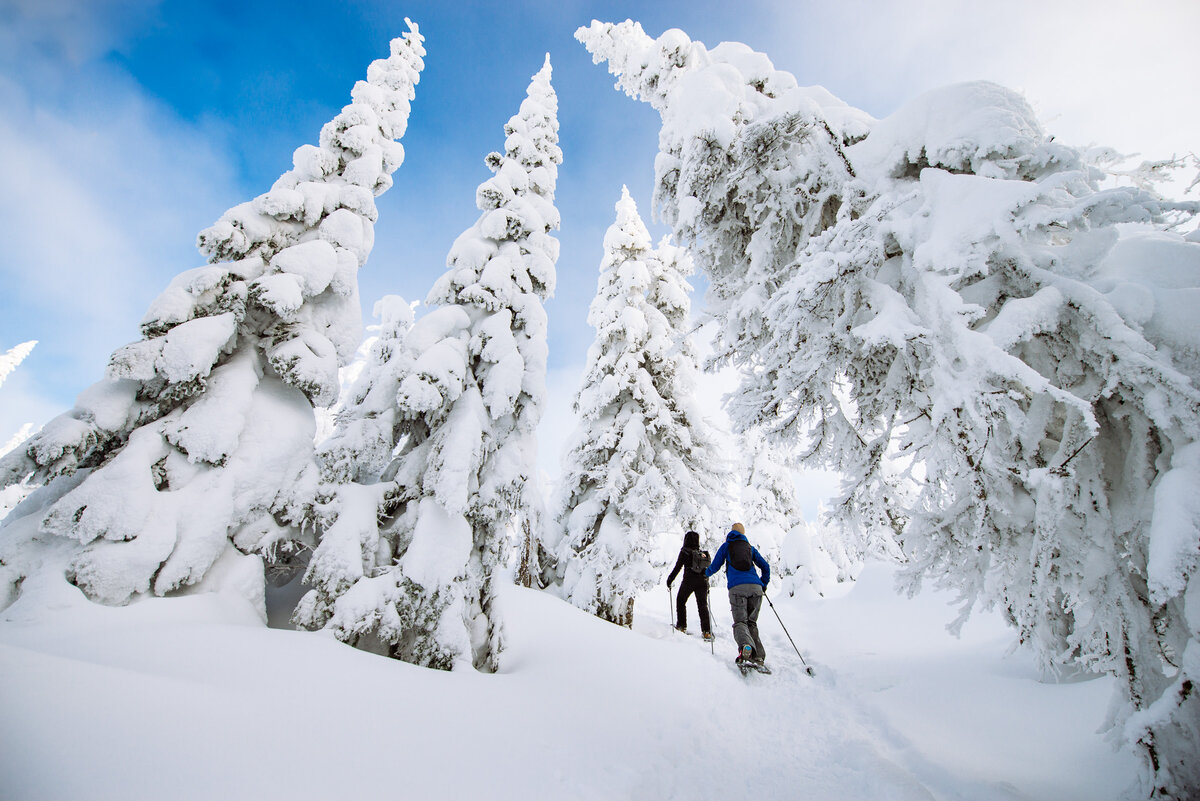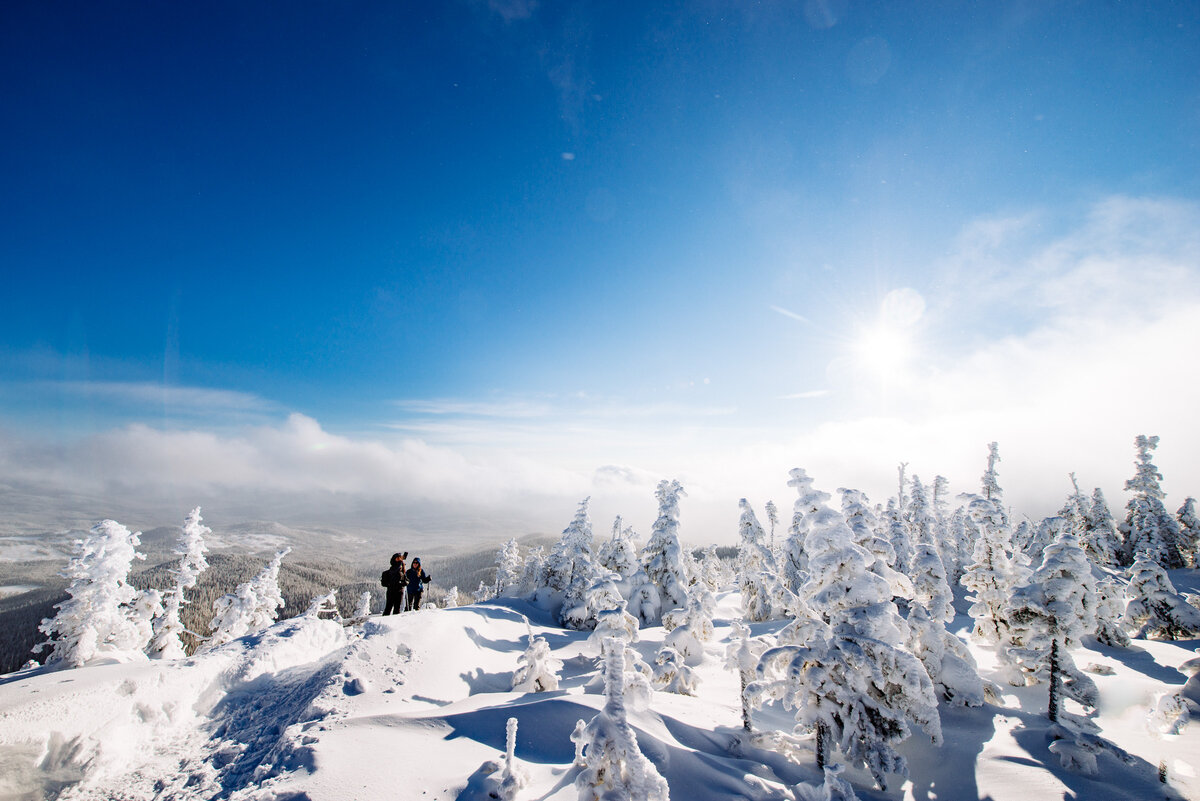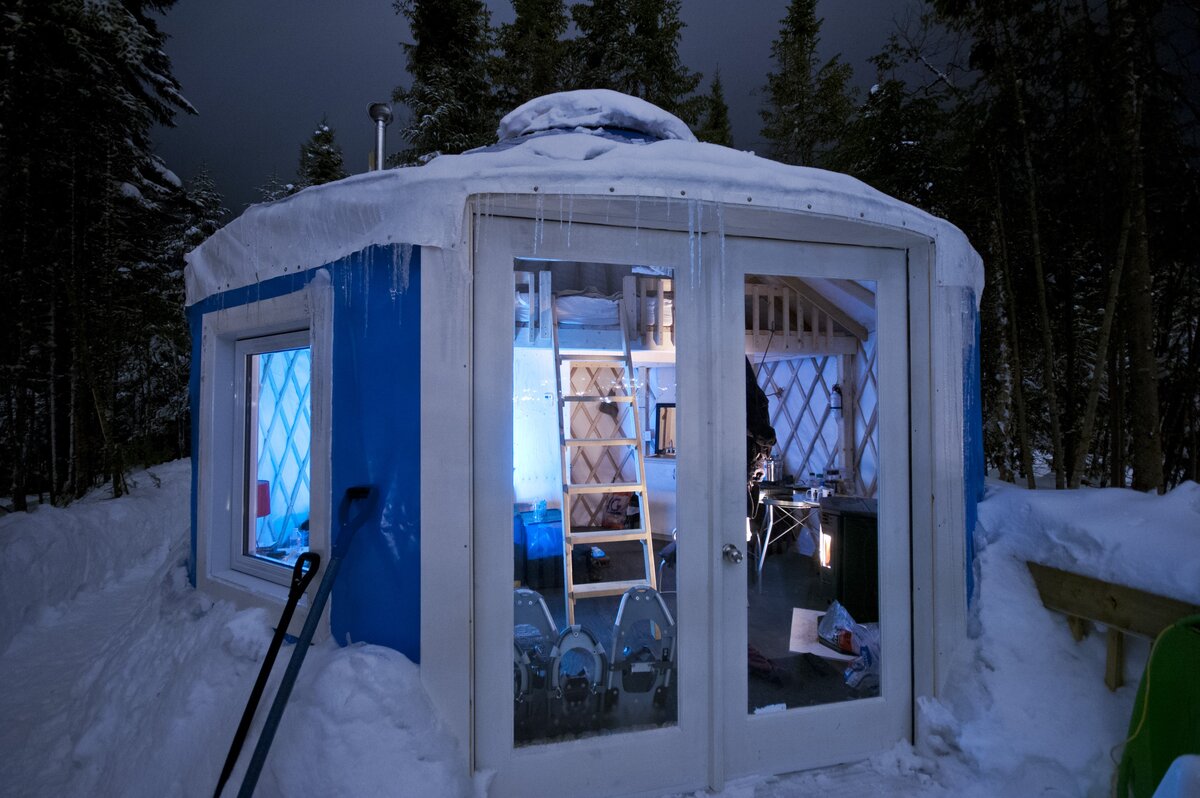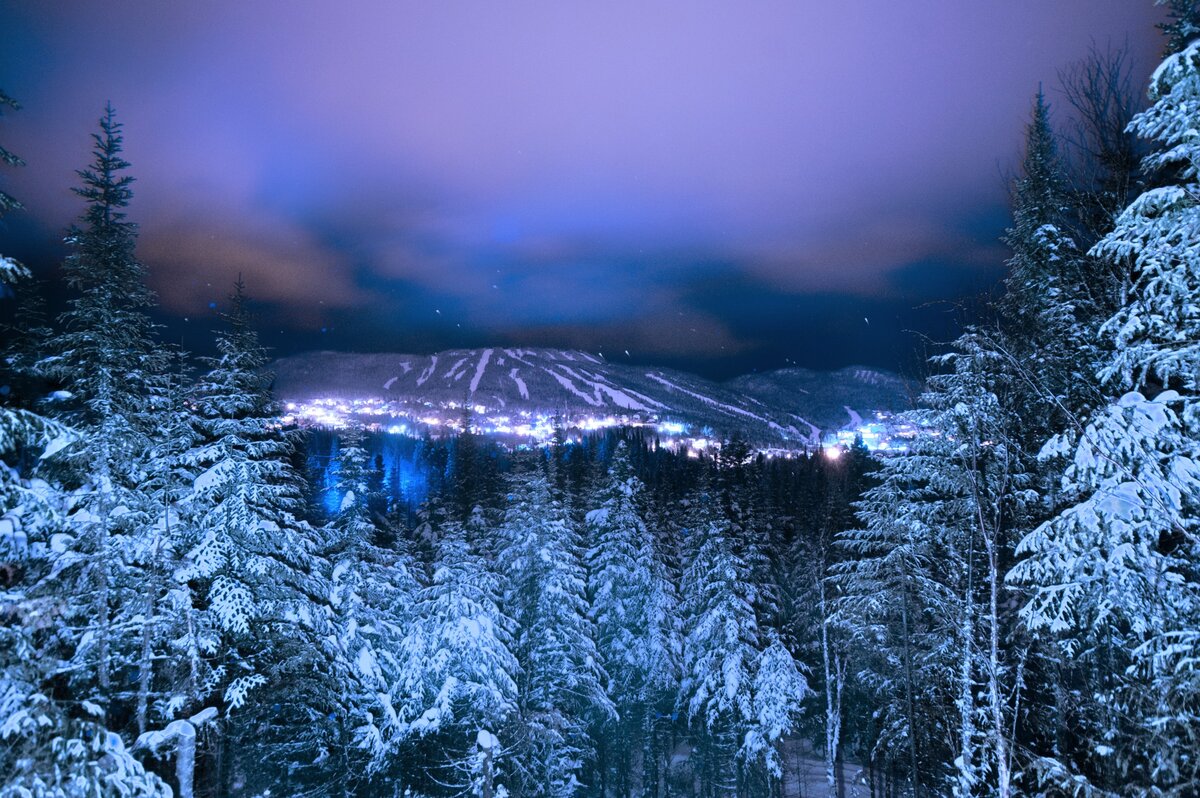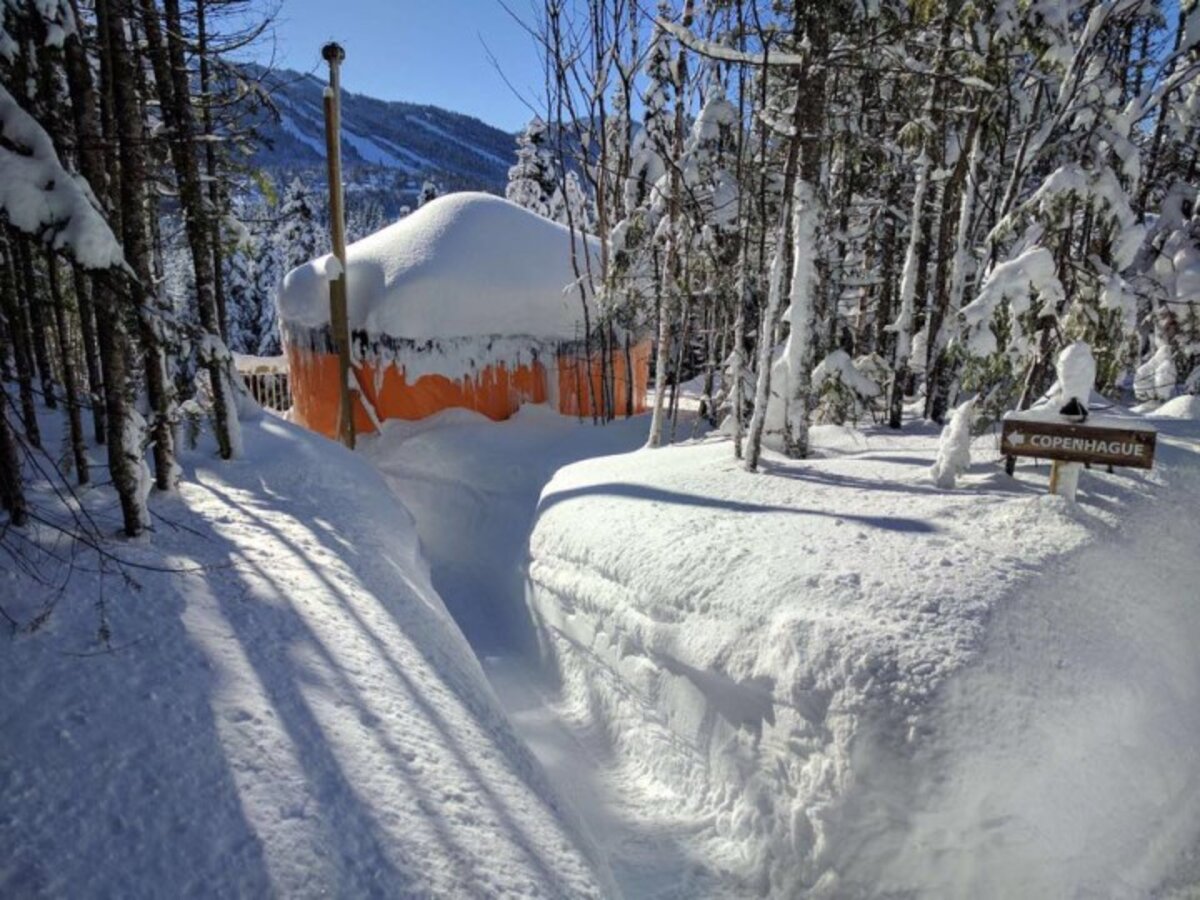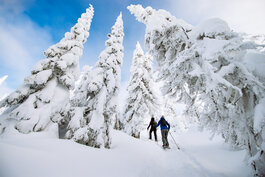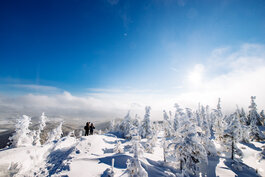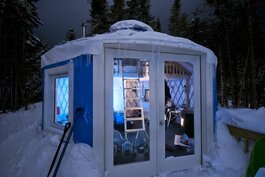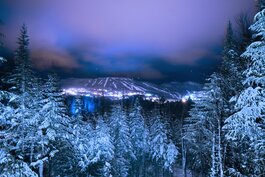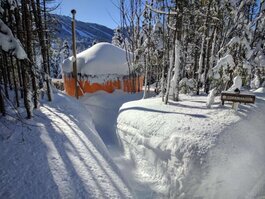 DAY 3 | Downhill Skiing and Nordic Spa

L'Éternel Spa
The view of the ski hills from your yurt balcony has been tempting you for the last 24 hours, today's the day to hit the slopes!
Head to the Valinouët Ski Centre (about a 3-minute drive from Imago) for a half day of downhill skiing. Equipment rental is available at the main lodge. Valinouet, a very family friendly ski hill, is renowned for the quality and quantity of snow it gets every winter. Slopes are covered in 100% natural snow! No snow guns here! The pub restaurant on-site is the ideal spot to enjoy a hot lunch after your morning of skiing.
Spa Time!
Enjoy a couple of hours in the Nordic baths at L'Éternel Spa (a few steps from your yurt at Imago). The facility also offers a full range of massages and treatments to enjoy after your 2 days of outdoor activities.
Note: Sunday is 'Family Day' at l'Éternel Spa. Kids over 8 years old can enjoy the Nordic spa. On other days, the spa is considered adults only.
After a couple of hours of relaxation, it is an easy drive to the Hôtel Chicoutimi where you'll spend the next two nights. (46 km – 45 minutes) This boutique style hotel is located in the heart of Chicoutimi right beside the beautiful cathedral. There are lots of options for dinner near here.
Alexandra chose to head to the Microbrasserie HopEra, a microbrewery and pub-style restaurant, located in the borough of Jonquière (17 km – 25 min.) The HopEra is known for its creative menu featuring local fare, stylish ambiance and, of course, its great list of craft beers. They are proud ambassadors of the Zone Boréale (Boreal Zone).
DAY 4 | Downtown Chicoutimi
Why not sleep in this morning and enjoy a delicious hot breakfast at the hotel?
Then, how about enjoying a run or a walk to explore the downtown shops and galleries?
Suggestion: head to the Zone Portuaire (Harbour Zone) to walk along the river and cross the Sainte-Anne bridge to see one of the most beautiful views of Chicoutimi.
During the afternoon, walk along Racine street, the main street, where you'll be able to discover our local stores, restaurants, cafés, galleries and more.
Note : Some places are closed on Sundays.
Local Shops to Visit :
Boutique La Fabrik
Librairie Les Bouquinistes
Rodrigue le Bottier
Kitch Up
For a Coffee or a Bite to Eat :
Café Cambio
Restaurant l'Inter
Café Mont-Royal

La Pulperie de Chicoutimi - Ⓒ Michaël Beauchemin, Canopée
If you are looking for a more indoor adventure, we recommend a museum visit to the Pulperie de Chicoutimi regional museum where the history of the region is showcased. The Pulperie is located in a beautiful historical area of Chicoutimi near the iconic Petite Maison Blanche.
Finish your day with a delicious meal at La Cuisine Restaurant. This fine dining restaurant features French cuisine prepared with our local products and is also a proud ambassador of the Zone Boréale.
Walk to Hotel Chicoutimi for your second night.
Enjoy breakfast at the hotel once again before heading home, your head filled with memories with the desire to return in the spring!